4 Day France Christmas Market Tour
Tailor your Christmas markets itinerary to suit you
Join us for a festive 4-day tour of the Strasbourg Christmas markets, the Capital of Christmas. Our English-speaking guide will take you on a tour of over 350 stalls filled with hand-crafted arts and crafts, traditional Alsatian gourmet treats, and more.
Or contact our team now to start planning your own custom Christmas Markets itinerary.
Day 1: Paris to Strasbourg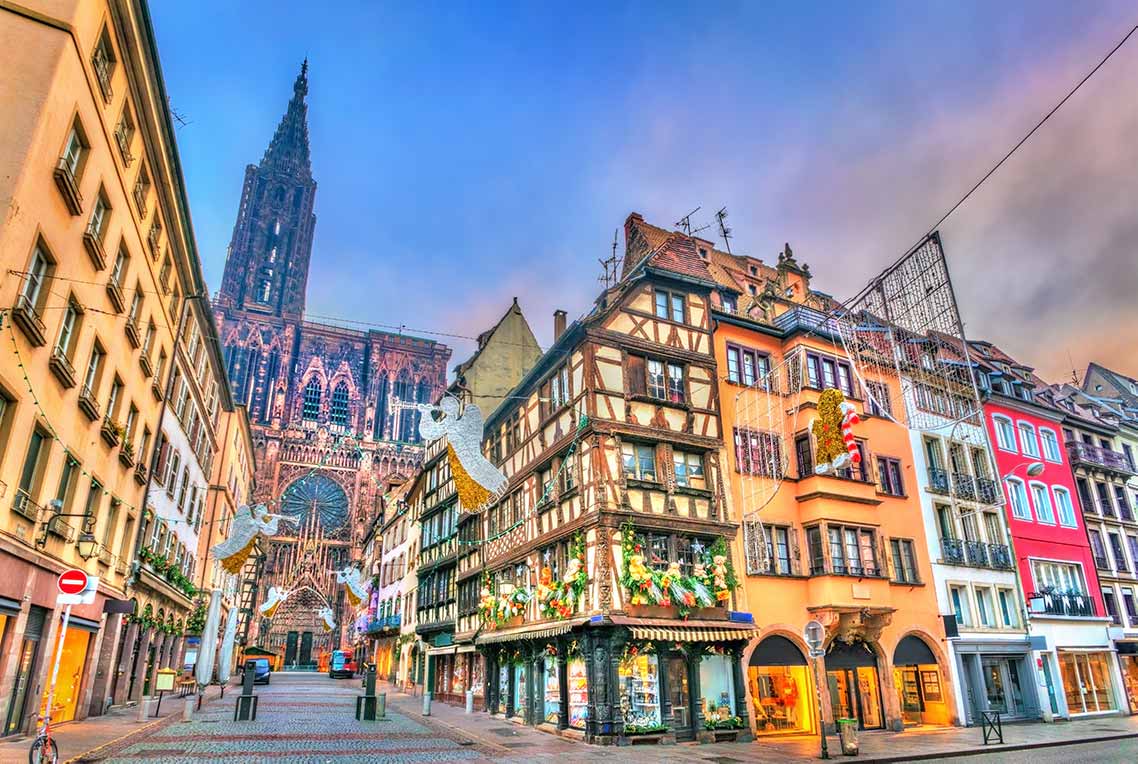 Your chauffeur will be waiting for you in your hotel reception ready to take you on the short journey to Gare de L'est as the best way to reach Alsace from Paris is via the high-speed train which takes just 1 hour and 45 minutes. If you would like our team to provide a Travel Companion service where a local English-speaking guide would be on hand to ensure a seamless travel experience then please let our team know and we can arrange that for you.
The high-speed TGV arrives at Strasbourg station in the heart of the city which is the Capital of the region known as the Bas –Rhin. This part of France is unique in that it has changed hands several times over the centuries between German and French territories and so this is reflected in every part of life here, from their own language, Alsatian, to the unique architecture, and of course the local gastronomic delicacies only available in this part of France.
On arrival at the station in Strasbourg, your chauffeur will be waiting for you ready to take you to your hotel in a luxury Mercedes V Class.
Strasbourg is christened the Capital of Christmas and it is easy to see why. The most beautiful and elegant decorations adorn all parts of the city. Baccarat crystal stars and giant crystal snowflakes line the avenues and streets of Strasbourg and elegantly decorated Christmas trees on every corner turn the city into a magical fairyland. Strasbourg is home to the oldest Christmas market, held since the Middle Ages, and one of the largest Christmas markets in France. In fact, there are 13 separate Christmas markets in the city center.
In the evening explore the city at your leisure and dine in one of the many pretty brasseries dotted throughout this beautiful city.
Day 2: Strasbourg Christmas Markets
This morning your guide will be waiting for you in your hotel reception ready to take you on a tour of the markets. There are over 350 stalls in total with everything from hand-crafted arts and crafts – glass paintings, marquetry, music boxes, embroidered tablecloths, and earthenware pottery to traditional Alsatian gourmet treats such as kugelhopf, bredle cakes, mulled wine, and foie gras. Prior to your tour, your guide will discuss each market and you can decide which ones you want to visit together.
'Village of Sharing' Christmas Market and Le Grand Sapin
We head first to the largest Christmas tree in Europe found at Place Kleber in the 'Village of Sharing' Market. This stunning and beautifully decorated tree is over 100 feet high and is donated by the  National Forestry Office. The search for the perfect tree actually starts in March and if you look closely at the tree you will see additional foliage has been added to give the tree a fuller shape. This majestic tree is decorated with over 7km of sparkling lights, baubles, angels, and stars and at 5 pm every night the lights are switched on transforming the square. In the past, people used to put presents under the tree for the more needy residents of the city. This tradition has continued albeit with a 21st-century twist – all the stalls in this particular market are charity stalls meaning any profits raised will go to charity – hence the market's name: Village of Sharing. Today, there are more than 60 charity stalls selling everything from hand-carved tree decorations to spicy warm gingerbread and vin chaud. For those of you who are more adventurous, there is also a skating rink adjacent to the market.
Following lunch, we head to Place Broglie which houses the oldest and most famous section of the Christmas market in Strasbourg, the Christkindelsmärik.
Over 100 stalls fill the tree-lined square in the city, with stalls selling locally produced food products – fois gras, choucrout, bretzels along with vin chaud and hot chocolate. There are also lots of stalls selling all things Christmas, from Santa hats for your pets to delicate hand-blown glass baubles decorated with real gold, this market has something for everyone.
At the end of the day head to one of the many beautiful squares in the city center and enjoy an apero of vin chaud with bretzels.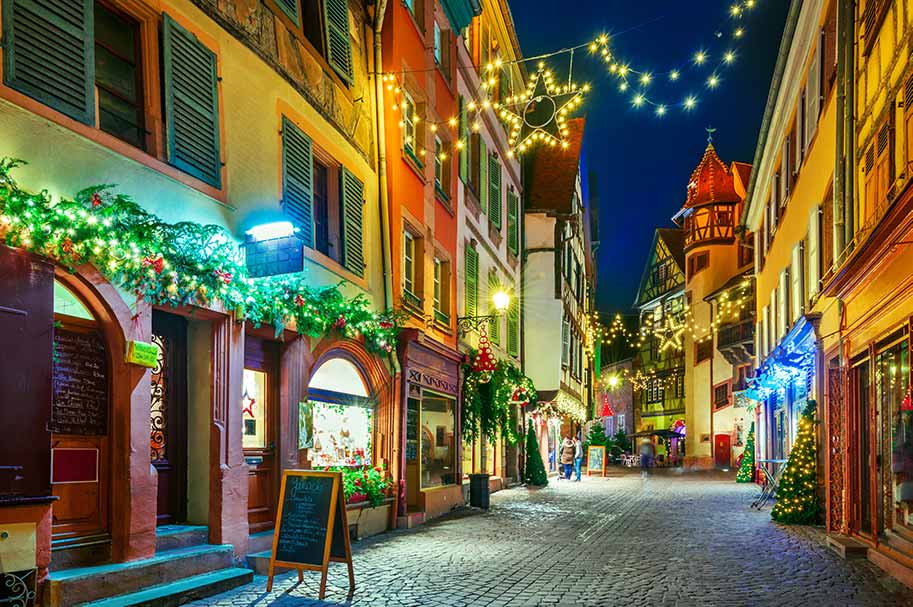 Your chauffeur and guide will be waiting for you in your hotel reception ready to take you to one of the prettiest towns in France, and indeed of Europe, Colmar.
"At the heart of the Christmas market magic' is how Colmar markets itself to the world. This Alsatian village is truly the epitome of picture postcard perfect – walking through the village feels like you are on a magical Disney movie set.
Situated right in the heart of the historic town center, Colmar's six Christmas markets each capture the essence of the Festive Season, with every market having a different Christmas theme. Your guide will take you on a private tour of the markets as well as take the time to explore other parts of this beautiful Alsatian village.
In the afternoon we head for Selestat –  said to be the birthplace of the Christmas tree (Sapin de Noel).  The idea of the tree came from Alsace, then part of Germany, in the 14th century and was apparently introduced by Princess Hélène de Mecklembourg, on her marriage to the Duke of Orléans, heir to the French throne. The first recorded mention of a Christmas tree can be found in a document dating from 1521 which is on display in the Bibliothèque Humaniste in Sélestat.
The original decorations for a Christmas tree were fruit and nuts – mainly apples and walnuts. Legend has it that in 1858 the harvest failed and the local glassmakers of Meisenthal made glass versions of the traditional fruit and nut decorations. The glass decorations were a great success and so the manufacturers carried on with their production and soon the decorations spread across the world.
Today Selestat is home to a beautiful Christmas market as well as an amazing Christmas Tree exhibition that displays the development of Christmas tree decorations over the last 5 centuries. Your guide will take you on a private tour of the town where you can see the incredible crystal Meisenthal baubles chandelier that comprises 173 Christmas baubles in various colors, the beautiful Jardin du Sapin – a secret Christmas tree garden illuminated with literally thousands of twinkling Christmas lights as well as visit the Annual Christmas tree competition and see who has the best Christmas Tree in Alsace.
At the end of your tour relax in the back of your chauffeured car and head to Strasbourg for a dinner in one of the city's many fine dining eateries.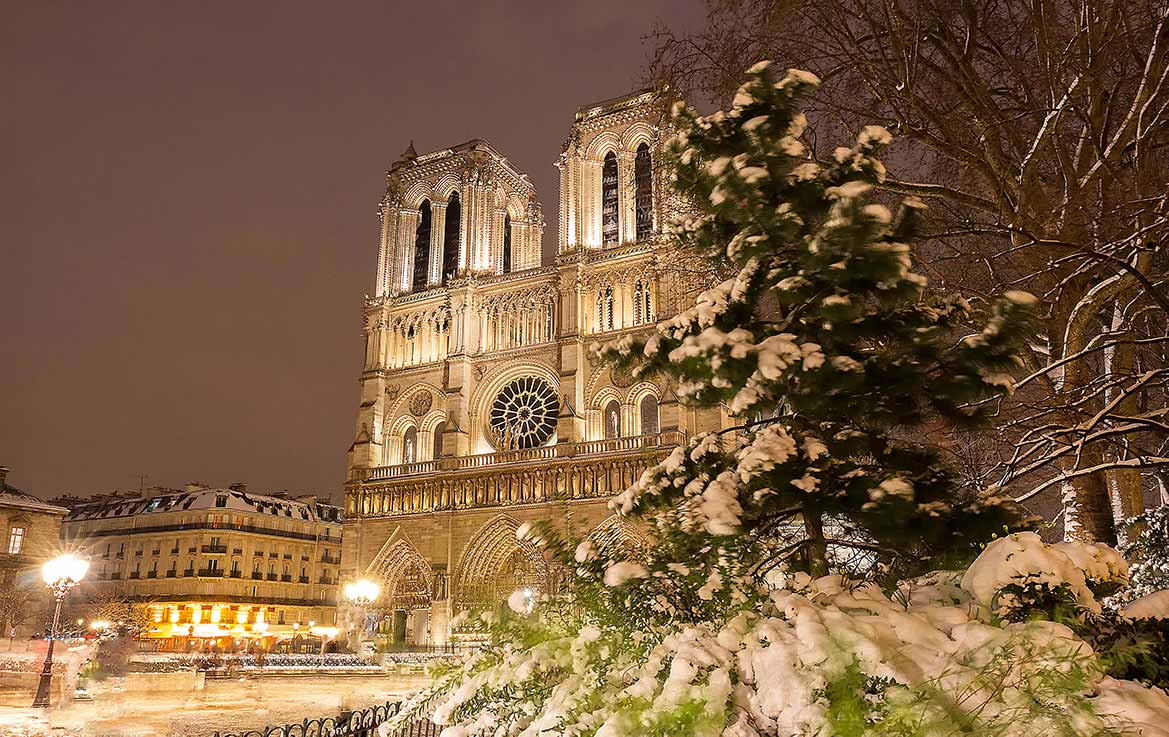 Depending on what time your transfer is back to Paris you can spend the morning with your guide and visit Petite France, the most picturesque part of Strasbourg. The market is surrounded by half-timbered houses all beautifully decorated with lights and Christmas trees. The artisan market in Petit France is mainly craftspeople selling intricately carved wooden Christmas decorations and elegant Christmas tableware and linen – perfect for presents for friends and family back home.
When the time comes to leave Alsace your chauffeur will be waiting for you in his Mercedes V Class, ready to take you on the short journey to the station where you will board the TGV to Paris.
Get a bespoke France Christmas Markets Tour itinerary
Get in touch with our expert team below to start planning a custom Christmas Market Tour for your private tour group. 
All our itineraries are completely complimentary and customizable to suit you. Simply fill in the form below with your travel dates and our team will be in touch to help!
Other tour itineraries to explore
Salut from France! I'm Debbie, founder of Luxury France Tours.
Having developed into a Francophile on a trip to the French Alps many years ago while still in school, I moved to France after a career traveling the world led to me meeting my (now) French Husband in Johannesburg. I created Luxury France Tours as a way of sharing my love of France & igniting this passion in others.